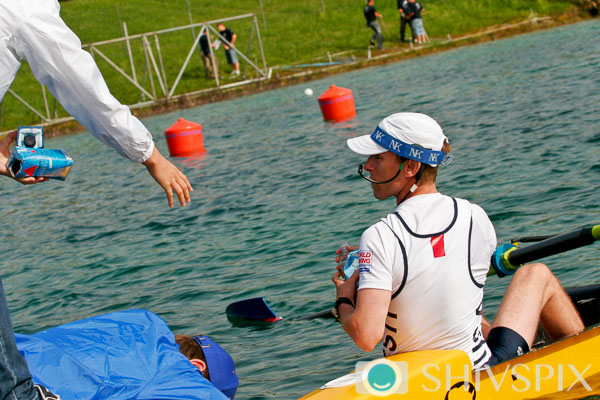 Leigh Heyman Addresses the Age Issue
"In basic terms, I don't think 30 is too late to start trying to make the team, having done it myself. But I'm not going to sugar coat it, you do have some things working against you." – Leigh Heyman
I was a coxswain in college and now I cox for clubs and masters. I just turned 30. Is it to late for me to join the National team and maybe one day compete on a global level? Is there an age restriction on coxswains?
– Anthony
Hi Anthony,
Thanks for your question. I offered to help Shivani answer your question because it hits very close to home. I was 31 before I started trying to make the team and I didn't make my first National Team until I was 36 years old. In fact I pretty much followed the exact path you're considering.
First off, the answer to your second question is no, there are no age restrictions on coxes (or rowers for that matter). In fact there were at least three coxswains in their forties at the 2008 Olympic Games in Beijing: Leslie Thompson-Willie was 48 years old when she coxed the Canadian women's 8+, bronze medalist Elena Georgescu of Romania was 44, and Germany's Peter Thiede was 40 years old.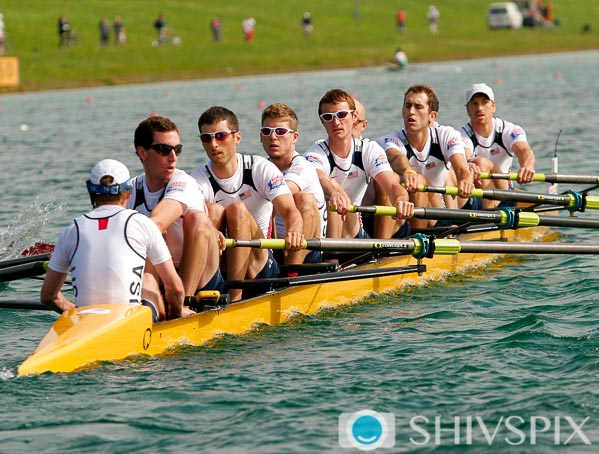 As for your other question of whether it's too late to get started, this is where things get a bit less simple. In basic terms, I don't think 30 is too late, having done it myself. But I'm not going to sugar coat it, you do have some things working against you, and making the team for someone in your position will require navigating them all as perfectly as you can.
There are three main things to think about. First off, it's important to realize that your years of experience can potentially be a mixed blessing. Second, you're going to need to get the rowers and coaches to take you seriously. Finally, and this was the biggest challenge for me, you're going to need to reconcile your goals with your non-rowing life.
On one hand, you are in a good position having as much experience as you do. Coxes rarely make the U.S. Team with less than 7-8 years' experience—in fact most of the other guys, though they ended up at the Training Center after college, actually had experience at the junior level before college. That said, experience can potentially work against someone in their 30's, more so than, say a 25 year old, because we tend to be more set in our ways and more sure of our opinions.
One of the challenges you may face in making the National Team, will be your willingness to challenge some long-held assumptions about rowing and rowers. The needs of elite rowers and coaches, what they expect, and don't expect, from you, and what they will and won't tolerate, are VASTLY different from what you may be used to, and so much of your success will depend on your ability to adapt and internalize new ideas on-the-fly.
'So much of your success will depend on your ability to adapt and internalize new ideas on-the-fly.' - Leigh Heyman
This leads to the second thing confronting someone starting late: getting the athletes and coaches to take you seriously.
Rowers at this level are extremely self-motivated. For many of them rowing a coxed boat requires releasing more control than they'd prefer, so they must develop complete trust in the person to whom they're releasing it. Likewise, elite level coaches are precise about what they expect from each workout and each drill. They need to trust you'll get the desired results from a workout without having to follow every stroke. Unfortunately this kind of trust doesn't develop overnight.
My advice here is to find a club with an "elite development program." There are a few clubs out there, PennAC, Vesper, Riverside and the New York Athletic Club, among others, with a proven track record of developing elite rowers. Even a season or two at one of these clubs helps you establish your reputation with coaches who have relationships with the national team staff. Also these programs can introduce you to the demands of elite level coxing in a slightly less demanding arena. Finally, many of the rowers you cox at these clubs, will one day be on the national team themselves, so you will already have trust relationships with some of the rowers when you finally arrive. Being a familiar face to the rowers and coaches in the boathouse will go a long way toward your credibility.
Finally, I think the biggest factor for someone in their 30's starting out to make the national team is how it will affect your personal life. This aspect was the hardest for me over the years. It's important to realize that a serious commitment like this makes severe demands on your time, your personal relationships, your career and your finances. It's likely that few of your peers, much less your family and loved ones will fully understand the goal you're pursuing or why you're pursuing it. This lack of understanding often leads to impatience in your romantic life and intolerance in your professional life, both of which can take heavy tolls in the long run.
The best tools for managing this are honesty and communication. The more upfront you are with potential employers, the more likely you are to find one who's tolerant, or possibly even supportive of your goals (better yet, get a job involved with rowing!). In your romantic relationships you need to communicate constantly about your plans, your expectations and your priorities. No one likes surprises, least of all the people who love us, and the best way to handle that is by laying your cards on the table early and often.
I was fortunate in that, at least early on, I had a job that was willing to let me take summers off. But after a while they got tired of that and made me choose (I chose rowing). What I didn't realize at the time was how much this cost me both in lost wages and in professional growth (not to mention my love life).
Obviously one needs to rationalize all of this as the sacrifices you must make to achieve these goals. However, my advice here is, like a gambler walking in to a casino, know your limits. Ask yourself if you're willing to quit your job, or carry a lot of debt to reach this goal? If so, how much? Set boundaries for when you can tell yourself you gave everything you had to give and walk away proud if it comes to that.
– Leigh Heyman
Leigh Heyman
Leigh Heyman coxed the US Men's Lightweight 8+ in 2007 at the age of 36. He is a member of the New York Athletic Club and a five-time winner of The Head Of The Charles lightweight men's 8+. He has also won three Canadian Henley golds and two U.S. National Championships. He currently lives in Cambridge, Massachusetts and while "mostly" retired from competition, he can occasionally be seen on warm mornings steering boats down the Charles River.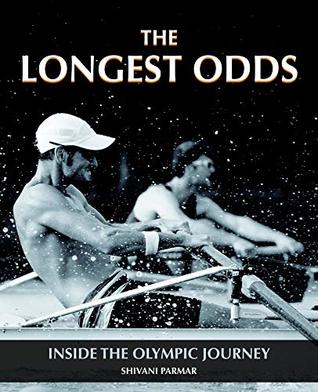 Go behind the scenes of the Olympic Journey with The Longest Odds, a photo-documentary that goes inside the Beijing and London Olympic journey of the US Olympic rowing team. 
This book illustrates what you do not see on television – it's a raw look at what athletes go through during their years-long journeys much before anything appears on television.
The Longest Odds allows us to see those highs and lows, the conflicts, joy, exhaustion, elation, fear – and most of all, the bonds of friendship being indelibly forged.
Introducing Roving Cosmos
Dear friends, I'm excited to share my latest adventure. With Covid-19 and the lockdown keeping me homebound, I realised I was going to need to find a new way to satisfy my need for epic adventures and people trying to achieve big goals. 
I traded my camera for a paint brush, and spent the better part of 2020 learning how to draw. And by the end of the year, Roving Cosmos was born.
Come join me on a new adventure as we go exploring the world beyond earth, following NASA and SpaceX, as we go reaching for the moon, Mars and the stars (all without leaving home)!